Retranscription du rapport entre le vide et l'image filmée sur l'objet livre.
À partir d'images tirées d'une sélection de films traitant du vide d'une façon ou d'une autre, conception d'un livre où toute la matière imprimée y est cachée. Apparemment vide, l'objet se nourrit pourtant de ce contenu. Il prend la forme d'un volume lourd, massif, contrastant ainsi avec notre rapport habituel à la vacuité.


Of Emptiness in Films
Using captures from selected films dealing with, one way or another, emptiness, this is the design of a book where all printed matters is hidden.
Apparently empty, the object is based on this content. It take the form of a massive, heavy volume, creating a contrast with our usual perception of emptiness.

Conception d'un livre scolaire donnant accès de façon intuitive et croisée à tous les types de contenus que cela implique dans la lecture, et revalorisation du livre scolaire en un objet gratifiant pour le·la lecteur·trice. Cette édition de La Princesse de Montpensier de Madame de Lafayette utilise une couverture à rabats que les élèves choisissent (ou non) de déplier pour guider leur lecture.

Design of an intuitive way to access various types of contents within school books and turning a demeaned object into a proper (valuable) book.
This school edition of La Princesse de Montpensier by Madame de Lafayette uses a foldable cover that students choose to use (or not) as a guide to their reading.

Mise en page d'une pièce de théâtre de Nicolas Raccah traitant de l'absence de textes érotiques écrits par des femmes. La pièce est un monologue au sein duquel les propos de l'acteur, ainsi que ceux des auteur·e·s qu'il cite, se répondent et se confrontent.
Le texte est divisé en quatre parties selon la tension ou la violence des propos. La page est tantôt ponctuée d'espaces, de silences, qui y figurent au même titre que la parole; tantôt un espace de conflit entre les discours prononcés.

The Silent Ones
Editorial design of Nicolas Raccah's play Les Silencieuses, a text that deals with the absence of erotic poems written by women. The play is a monologue during which the words from the actor, along with those of the authors he quotes, confront each other.
The text is divided in four parts depending on the tension or the violence it communicates. The page is sometimes interrupted by blank spaces, silences, that appear on the same basis as words; sometimes a conflicted space between the different speeches.

04
ESPACES (CARTO)GRAPHIQUES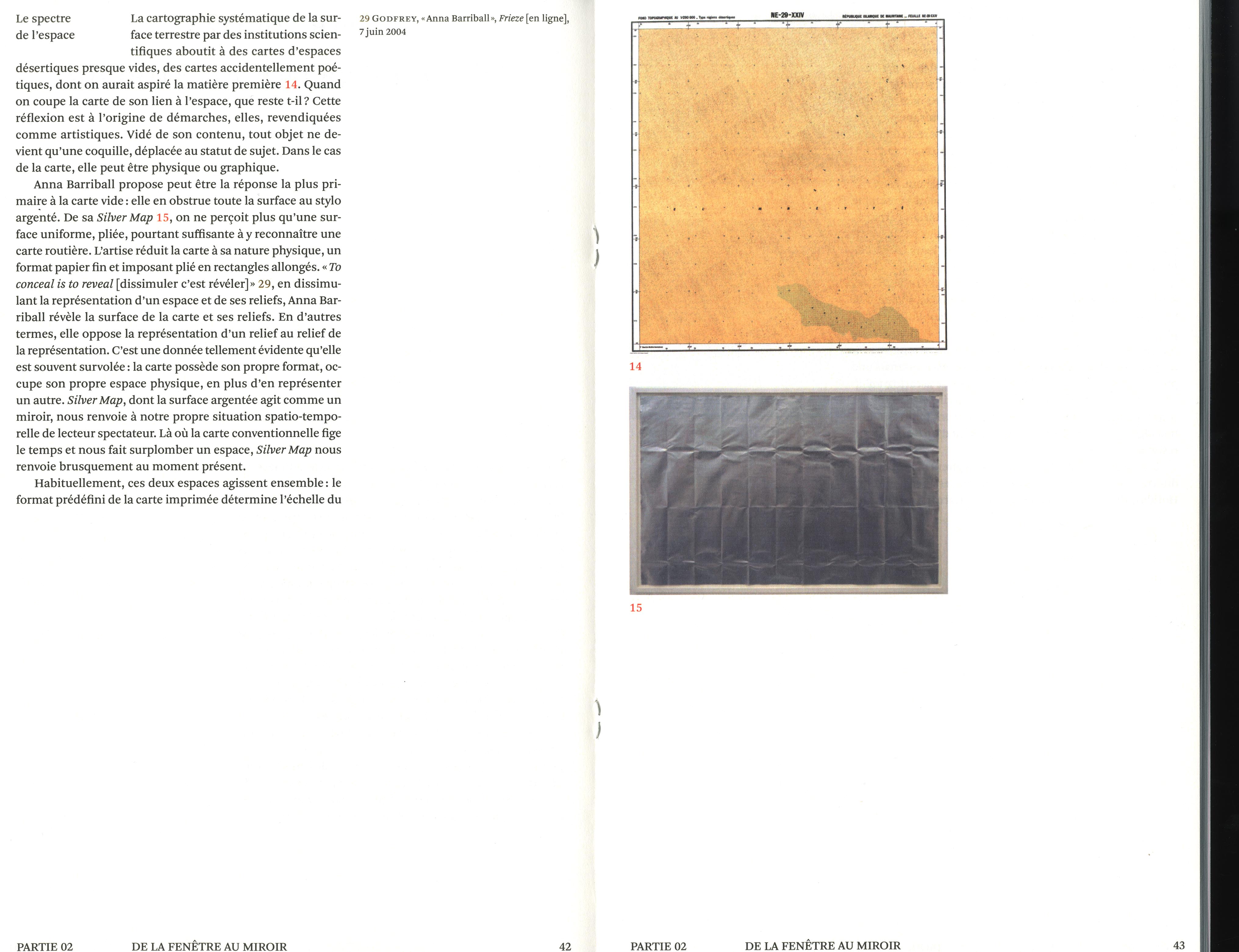 Mémoire de fin d'études (DSAA design éditorial) portant sur la représentation graphique des espaces dans les cartes d'artistes.
+ Mémoire complémentaire en anglais (
What Happens in Vegas
), étude de cas des deux editions de
Learning From Las Vegas
, respectivement mises en page par Muriel Cooper et Denise Scott Brown.
Maquette commune dirigée par
Yeelena de Bels
.

(Carto)graphic spaces
Master's thesis (DSAA editorial design) on graphic representation of spaces in artists' maps.
+ secondary english thesis, a case study on Learning from Las Vegas' two editions, respectively designed by Muriel Cooper and Denise Scott Brown.
Collective layout led by Yeelena de Bels.
Rapport de 3 mois de stage chez
Lundgren+Lindqvist
à Göteborg, Suède.
Un livret texte sur mon expérience au studio, un livret image de photos prises sur place, assemblés par une même couverture.
Internship report after 3 months at Lundgren+Lindqvist in Gothenburg, Sweden.
One text-only leaflet about my studio experience, one image-only leaflet with photographs taken during my stay, assembled by a single cover.

Conception d'une identité de collection d'œuvres complètes de l'auteur argentin Jorge Luis Borges.
Caractère typographique réalisé avec l'aide de Malou Verlomme.


Complete Works
Jorge Luis Borges' Complete works' collection identity based on a custom typeface designed with the help of Malou Verlomme.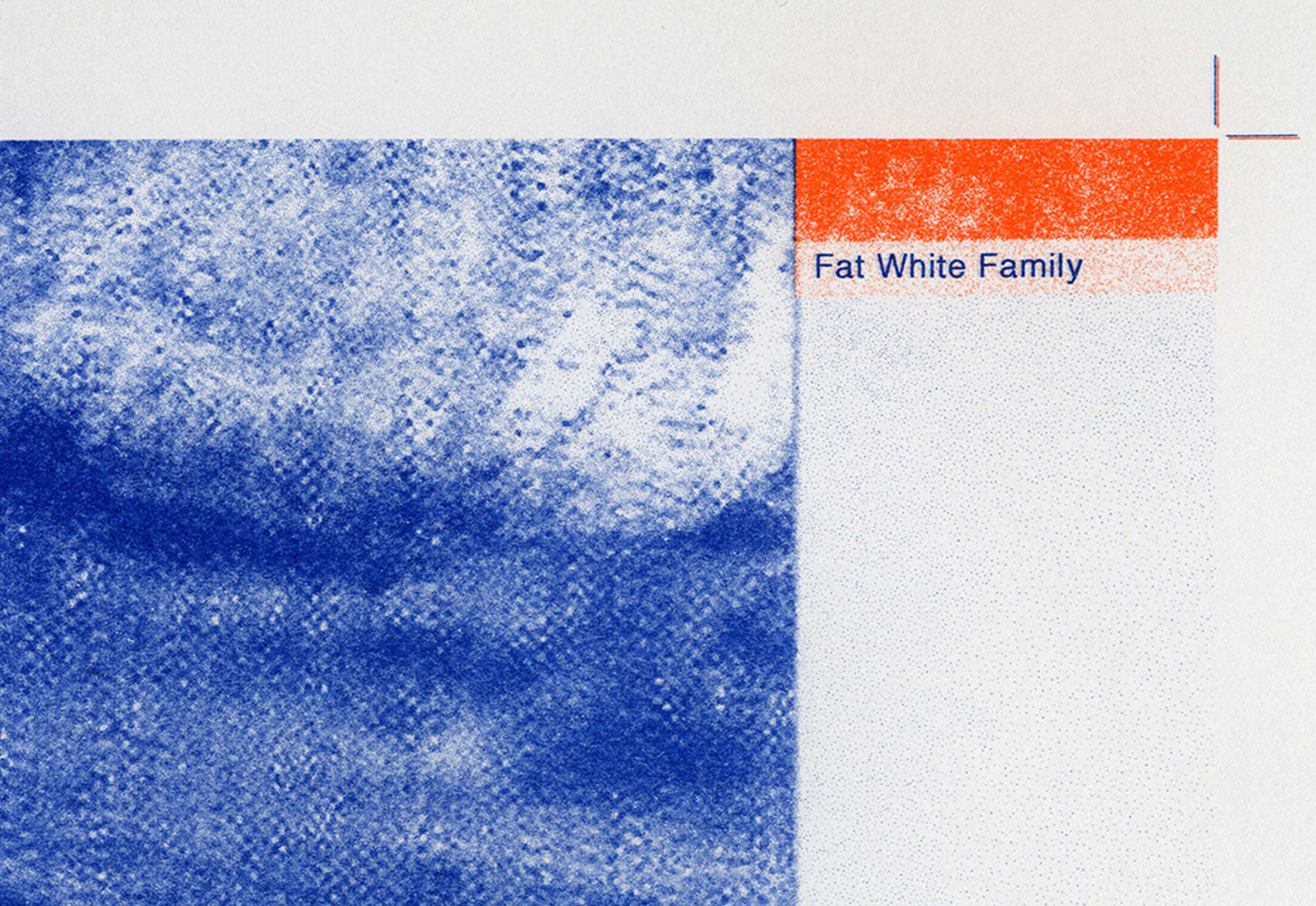 Pochette vinyle (Fat White Family, Whitest Boy on the Beach) réalisée dans le cadre d'un workshop avec
Helmo
.
Recomposition d'une pochette uniquement à partir d'éléments de la pochette existante.
Imprimé en risographie
Vinyl cover (Fat White Family, Whitest Boy on the Beach) created during a workshop with the graphic designer duo Helmo. New cover created using nothing but elements from the existing cover. Printed by a risograph.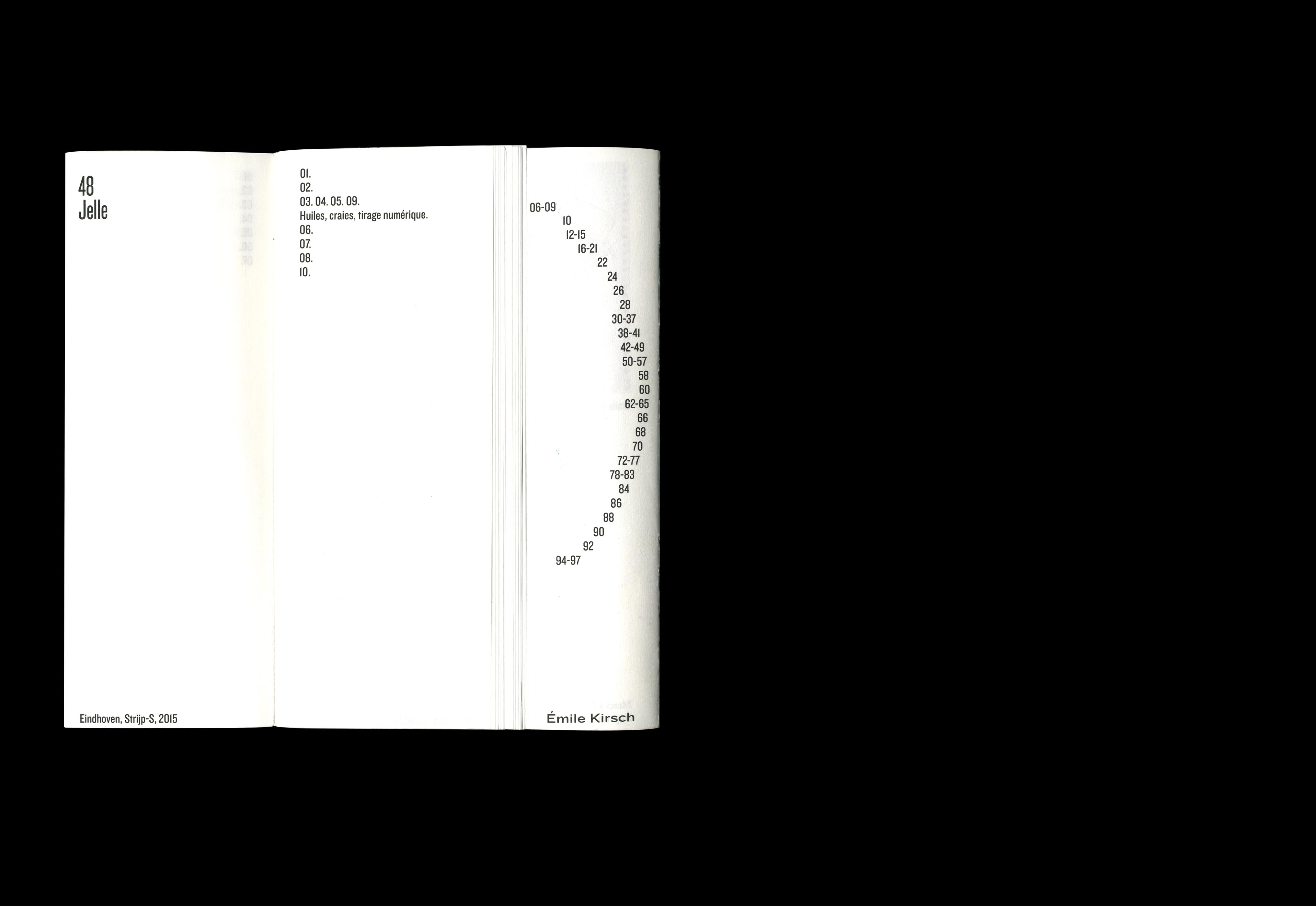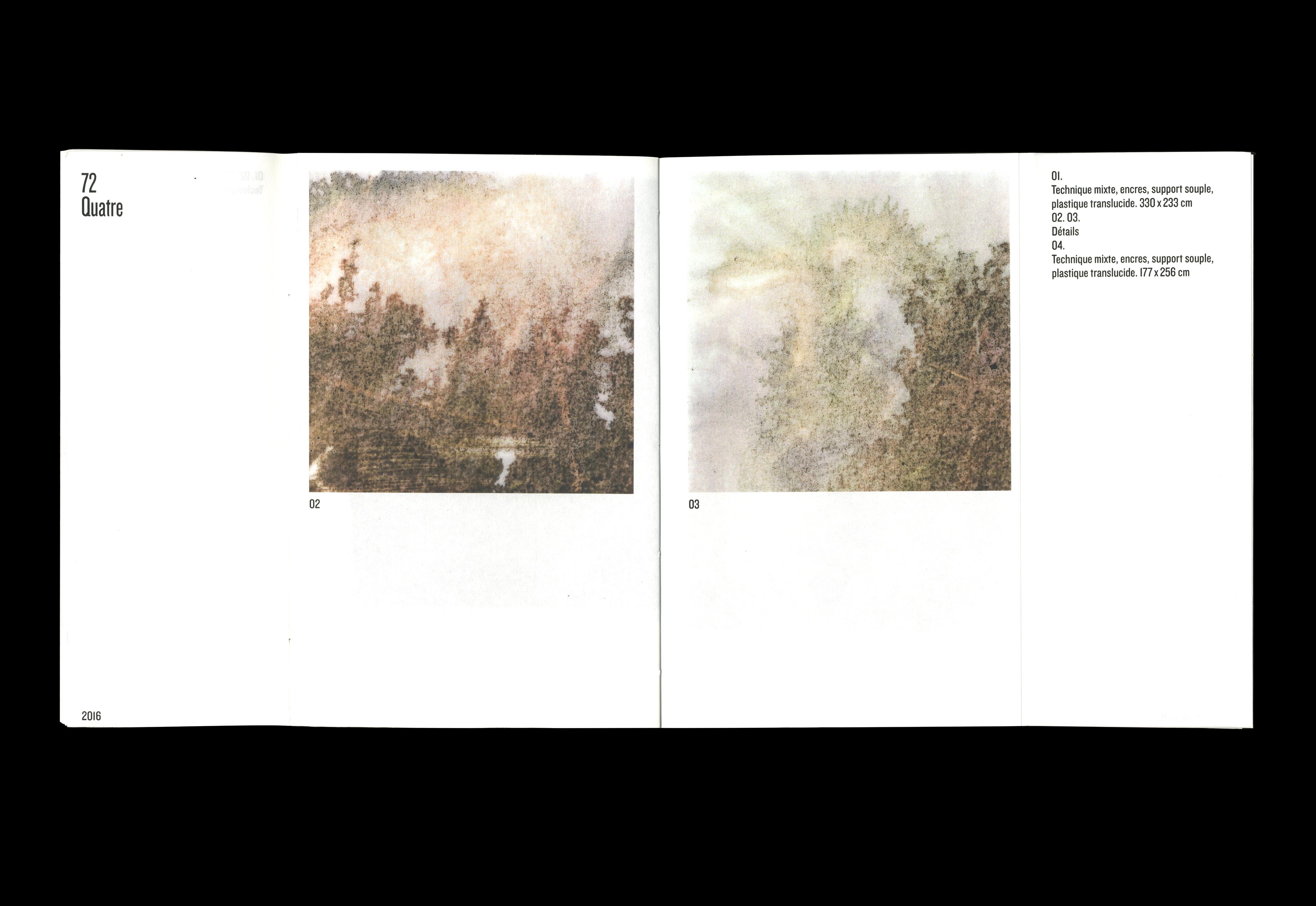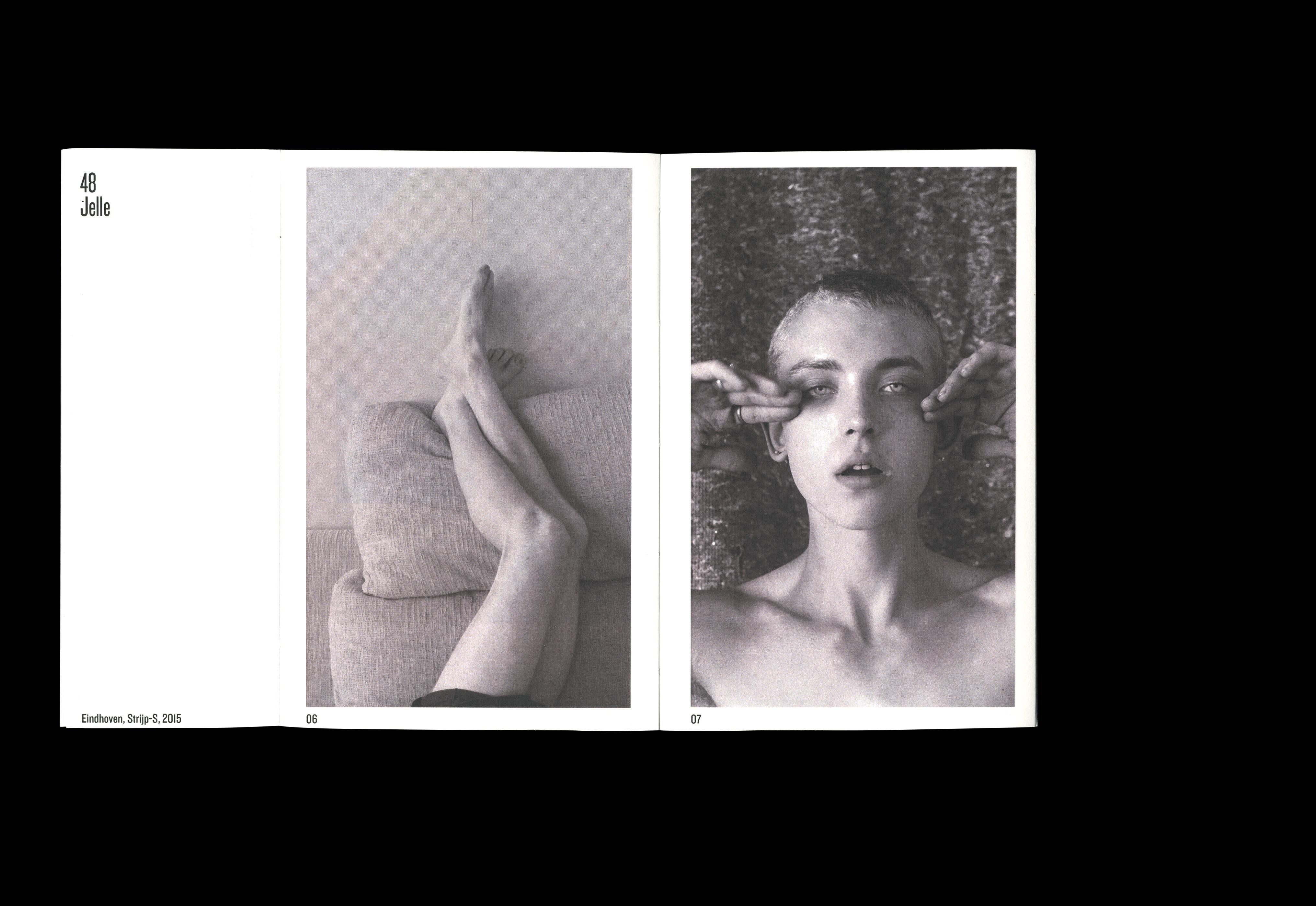 Conception d'un catalogue des travaux du plasticien/photographe
Émile Kirsch
. L'objet propose une entrée en deux temps – un premier classement raisonné, faisant part de l'approche, humaine ou scientifique, de la série, que l'on découvre alors dans un second temps – à l'ouverture complète du catalogue.
Catalogue for the prolific visual artist Émile Kirsch. The folded shape allows a double reading, a first pragmatic classification based on Émile's either human or scientific approach on each series, then discovered in a second step when unfolding the catalogue.
Rapport de stage réalisé après deux mois chez
Library of Arts
, Paris.
Photos du lieu : ©Alexandra Mocanu
Photos des livres/magazines : ©Library Of Arts
Internship report made after two months at Library Of Arts (LO/A Studio), Paris
Library pictures : ©Alexandra Mocanu
Book/magazines pictures : ©Library Of Arts
10
IT'S DARK AND WE'RE WEARING SUNGLASSES

Projet d'édition en collaboration avec Renaud Monfourny, photographe aux Inrocks. Amalgame entre l'icône et le symbole de la paire de lunettes de soleil, entre le travail d'image de marque qui s'applique aussi bien à un objet qu'à une personne.

Editorial project in collaboration with Renaud Monfourny, photographer for the magazine Les Inrocks. The confusion between the icon and the symbol that a pair of sunglasses may cause, between the branding that is associated to an object and to a person as well.